Dry Rot & Termite Damage Repair For Your Pasadena Home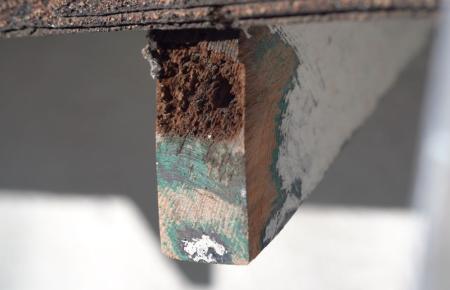 Are you looking for residential or commercial dry rot repair experts in Pasadena? If so, Partnership Painting Inc specializes in dry rot repair in Pasadena and surrounding areas. As homes age and get exposed to the elements, dry rot repair is inevitable. It's important to fix dry rot cracks as soon as they're noticed as they trigger expensive home restorations. Cracks in your home's siding or brickwork can also make your residence or commercial property unsafe, leading to termite infestation that would threaten its foundation. After dry rot repair is complete, our painting contractors can spruce up the appearance of your wood with a paint job or wood staining.
Let the experts at Partnership Painting Inc provide professional termite and dry rot repair for your home or business in Pasadena. Reach out to our dedicated staff for a free evaluation.
Termite Damage Repair
It's no secret that termites love wood beams because they are packed with cellulose. Termites enter your home at the ground level or at the roofline, and begin eating through the surrounding wood. Structural wood damages are the most difficult to repair. Our team of skilled workers replace the wood that has become infested by termites without disturbing the structure of your home. As soon as the damaged wood is replaced, we touch up the affected areas to match the existing colors.
Wood rot can be worse than you think… here's why:
Often what you see is only the tip of the iceberg so it's important to schedule an appointment to get a professional evaluation if you suspect you have any issues.
Do you know that we specialize in accessing and repairing wood rot?
It can be a serious issue that can be quite expensive if wood replacement is necessary. We have found that if you discover dry rot damage in the early stages, wood replacement can be avoided and wood can be repaired using wood epoxy.
What is wood rot?
Wood rot occurs over time and traditionally is due to water and sun damage in unprotected wood. We typically find it in areas that are exposed outdoors that have not been properly sealed and painted… or might have come in contact with too much moisture from rain or sprinklers.
How do we find it?
We typically discover wood rot when we are preparing for a paint job. During our prep process, we scrape and sand to remove all loose material. Many times if we find wood rot, it is worse because it's bigger and deeper than what the eye can see.
How do we evaluate what to do?
We have to first look at the location of the damage and determine if the wood is important to the structure. If the wood is a beam or part of the engineering we may recommend replacement over patching.
If the damage is only aesthetically an issue we typically can fix it with our three-stage process which includes removal, repair, and repaint.
Fixed or replaced?
If we can fix your damaged wood, which is less expensive than replacement, we remove all the damaged wood, use our special abatron mix, carefully patch the wood, sand, prime and paint. This will add years of life and beauty to your project.
If wood replacement is needed we would determine if the job is suitable for our crew to replace or if a specialty craftsman is needed. We know other trades that can help get the job done.
Please let us know if you would like to set up a meeting to discuss your concerns or upcoming project. You can schedule an appointment here and we will contact you.
Termite Damage and Dry Rot Repair Image Gallery