Metal Gate, Garage Door, & Fence Painting Pros In Pasadena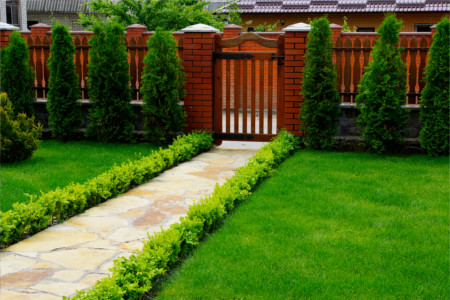 A fence is a vital protective element of your property, and when it looks drab, it can take away from your Pasadena homes' curb appeal. If you need quality fence painting, you can always trust the team at Partnership Painting Inc. We can have your fence painted in one day with our painter for a day solution. We offer quick, affordable, and dependable services and can handle all types of fences such as wood or vinyl. Call us to receive the most professional and affordable fence painting assistance in Pasadena.
Metal Gate Painting
A metal gate is usually made from steel or wrought iron, and the hue of the metal can make a big difference in how it appears. If the metal gate around your house requires a new coat of paint, you can either do it yourself or hire our painting contractors in Pasadena to do the painting for you. We offer a wide variety of color options to bring the look of your metal back to life; however, the type of paint that we use will depend on what kind of finish you'd like to achieve. If want to find out more about our metal gate or fence painting, reach out to us today.
Garage Door Painting
They say that beauty is in the eye of the beholder, but in this case, beauty is also about paint. Paint transforms your garage doors from a tired and beaten-up eyesore into an object of envy and admiration in your neighborhood. No matter how hard you try to keep your garage door safe and looking good, it's bound to get dirty. And before you know it, that dirt and grime will start to show on the finish of your glossy door. But don't worry - we offer professional garage door painting services that will keep your garage door looking its best year-round. Our garage door painting makes your garage doors stand out, which adds value to your home. If you'd like to consult with our painting contractors at Partnership Painting Inc for garage door and fence painting then call 626-449-4097.