Welcome to Partnership Painting Inc: a Glendora Painting Contractor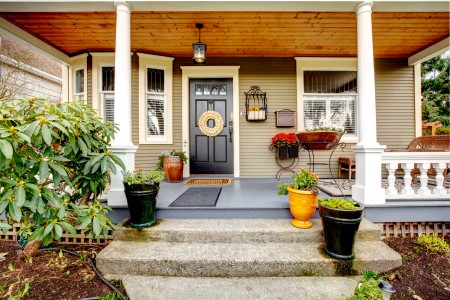 Partnership Painting Inc first started as a partnership between two best friends, Scott Penn and Brad Cage. Scott and Brad have known each other since 1968 (the second grade) and learned about the painting trade from Scott's father who painted houses when he was not teaching High School. Since forming Partnership Painting Inc in 1984, the company has slowly grown to meet the needs of our ever-expanding list of satisfied customers with quality Glendora painting services.
At Partnership Painting Inc our goal is to provide our residential and commercial customers with professional Glendora painting contractors that offer superior customer satisfaction and quality results that look better....longer. You don't have to take our word for it, though - just read through our client reviews! We have serviced hundreds of home throughout Los Angeles County, and the positive feedback we receive is a testament to our hard work and dedication.
Although we have primarily painted the interiors and exteriors of residential homes throughout Glendora, we have also painted churches, schools, condominium complexes, apartment houses, commercial offices and a 52,000 square foot YMCA, along with many other types of commercial buildings. If you are in need of Glendora residential or commercial painting, please give our experienced painting contractors a call!
Partnership Painting Inc - Glendora House Painters
As a painting company that has been providing quality Glendora painting services since 1984, you can count on Partnership Painting Inc for all your house painting needs. We are fully licensed and insured Glendora house painters that follow the appropriate measures to protect our customers and employees from hazards including lead-based paint. Don't settle for just any house painter - choose someone you can trust. Contact Partnership Painting Inc today!
With Partnership Painting Inc as Your Glendora House Painter, You Can Expect:
On time professionalism
Quality work at an excellent value
Neat and clean project completion
Experienced and skilled Glendora house painters that are insured with liability and worker's compensation insurance
Superior customer service from a friendly and easy to work with staff
Glendora Interior Painting
Every year many DIY painting homeowners are injured in falls because they lack proper ladders for the job, or because they do not know how to safely use what equipment they have when attempting to complete Glendora interior painting projects. In addition, lead paint in older homes, dust from sanding, and strong-smelling paints and solvents can pose health risks to homeowners.
As licensed, insured and experienced Glendora painting contractors, the crew at Partnership Painting Inc have the skills and equipment necessary to complete Glendora interior painting tasks safely, without risking any adverse effects to you or your home. We always follow the appropriate measures to protect our customers and employees from hazards including lead-based paint that is often found in homes built before 1978.
Save yourself from the hassle, stress, and potential dangers of tackling a DIY interior painting project. Contact Partnership Painting Inc today for quick and properly painted interiors at competitive prices. We are certain you will be impressed with the quality of our Glendora painting services!
Glendora Exterior Painting
If you have an older Glendora home and want to choose colors other than green and white, here are some guidelines to consider before starting an exterior painting project:
1. Light colors "advance" the exterior of Glendora homes while dark colors cause them to "recede". This means that lighter shades will make your home appear larger and closer to the street, while darker shades make your home seem smaller and further away. If you want your house to blend in and be less noticeable, therefore, a darker hue is best.
2. Light dramatically affects how colors appear to the human eye. In cooler climates the light is diffused and bold colors are intensified. In southern climates, the harsher, brighter sunlight will cause pale tints to appear washed out.
3. If you want your gutters and downspouts to be less noticeable, paint them the same color as the house.
4. Make sure any mildew problems are solved before you begin your Glendora exterior painting project. Test suspicious spots with household bleach and if they change color, you definitely have a mildew problem.
5. Moisture problems must be eliminated before exterior painting begins. If they are not, water will ruin even the best Glendora exterior paint job.
7. It is recommended to get expert help from a professional Glendora painting contractor when tackling an exterior painting project. This is especially desirable if you own a historical landmark and wish for it to be restored to its former appearance.