1908 Historical Craftsman Home in Pasadena, CA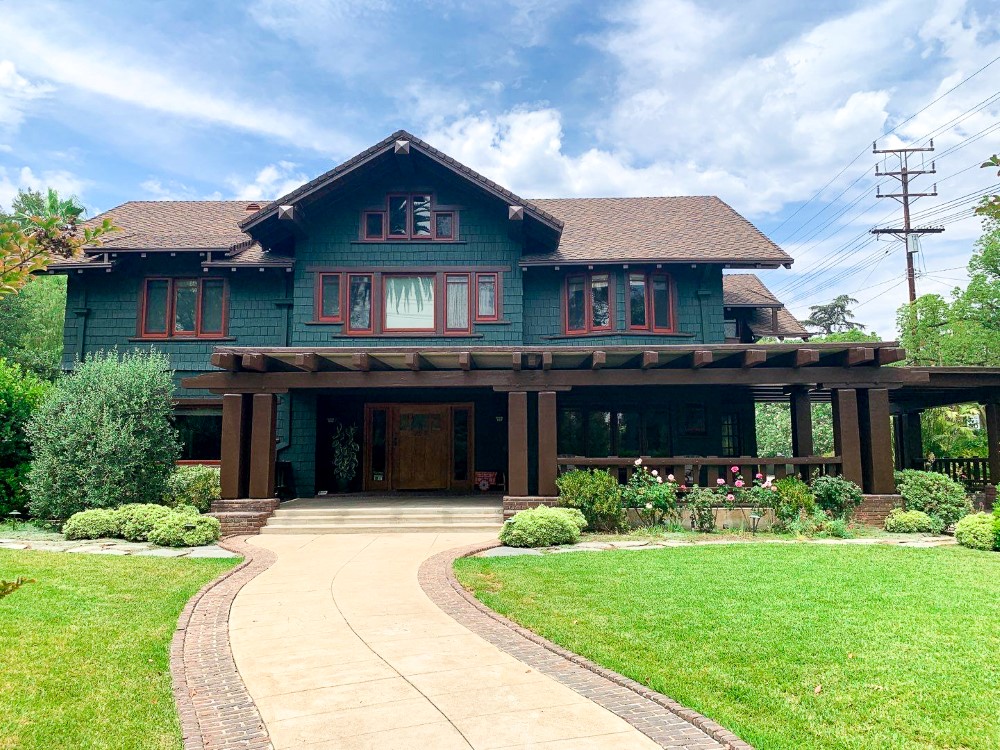 Our clients came to us for our expertise and experience with historical architecture that is iconic in American culture and Southern California's style.
This beautiful American Craftsman home in Pasadena, CA is over 100 years old and was in need of some TLC which our team carefully provided over weeks of preparation, expertise, and execution of the needs our client brought to us.
If you want to see and understand our residential process, this project and the images from it are for you. This project included restoring and painting the 5,847 square foot wood shake home, guest house, and a detached garage. One of the unique elements of historic American-style Craftsman homes is their sturdy bottoms that taper to the top. They often have intricate details like exposed rafter tails, wood details, large covered front porches, tapered columns, low pitched rooflines, and single protruding dormers.
For some painters, the details of a Craftsman home painting project are daunting and unattainable -- but our team is experienced in handling the toughest projects. The homeowner viewed three other houses that the Partnership Painting team had restored in their neighborhood and called to set up an appointment with Brad and Scott. Partnership Painting owners Brad and Scott met with the client, and the homeowner expressed some concern about the condition of the home, especially the wood and some areas of dry rot along with other damage.
This type of work is not new to Partnership Painting so we shared a few options with the client based on previous work and described our process of preparation and restoring the wood beams. The house was previously painted ten years ago so every inch of this home (wood shake, windows, doors, trim, etc.) had to be inspected, scraped, sanded, and patched where necessary. There were several areas where our team replaced 1x8 wood boards because of pre-existing dry rot.
To provide further context for the magnitude of this job, preparation took three (3) weeks and it took eight (8) weeks to finish the prime and paint. Attention to detail is key and is provided to every client we work with. One area that needed special attention was the arbor over the front porch. Fortunately, it was only aesthetical damage, so, Partnership did not have to have to replace any wood beams but could use Abatron wood epoxy. The house has unique wood beams (see images) that needed to be molded and restored. This took some extra time but afforded massive savings vs. having to have wood custom milled and replaced.
When we use Abatron wood epoxy, we take great care to make it look better than the original, which takes skill and saves our clients money. Sometimes our team is faced with an unexpected issue after a job has started. In this case, we removed a 1x3 piece of roof molding trim around the house that was previously added to hide the coving of the asphalt roofing. After removing, we decided, with the owner's approval, not to put back the wood trim as the water was collecting behind the board and was, over time, causing the trim board to rot out.
We fixed the problem by sanding, priming, patching, and using the aforementioned Abatron wood epoxy with brown caulk to seal the areas where the roofing material tied into the wood ceiling and wood beams. We painted the curved roofing material the dark brown color, which now blends in for a cleaner look. When we were wrapping up the job, we pressure-washed the roof to remove any debris and dirt that had accumulated in some of the corners.
Restoring this home is an excellent example of many projects we complete, where the homeowner is highly engaged and involved with our team. We can all witness the transformation -- it's truly unique!
View Project Gallery