Cal Tech Pasadena Exterior Painting In Pasadena, CA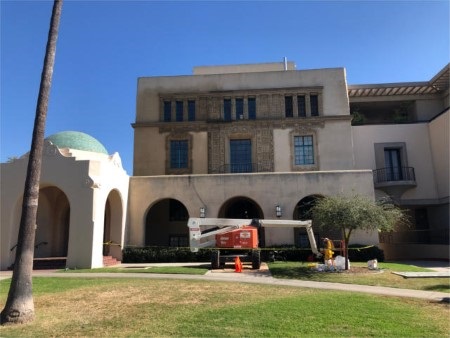 We were honored to be hired to work at the historic Caltech campus in Pasadena, CA. It is a beautiful and large campus covering 124 acres with an array of buildings featured in magazines and websites and used as examples of architectural triumph for years.
A local philanthropist founded the school in 1891. In 1921 it officially became the California Institute of Technology, where it is now world-renowned for its academic programs, scientific prominence, and an array of Nobel Prize winners and awards. Did you know Caltech has 45 Nobel Prizes? That's 45 more than us!
Due to its prominence not just in Southern California but worldwide, we were excited to be a part of history. We recognized the importance of preserving the grandeur of the school.
Our project was on the North Mudd Laboratory Building, which houses the Geological and Planetary Department and the school's private observatory. The style of the building is complete with unique walkways surrounded by stucco archways and wood beams that match the surrounding fountains, palm trees, and southern California landscaping well.
Many of the buildings on campus, including the Laboratory building, are very old. Our team is familiar with the necessary attention to detail and care required on such mature construction.
First, we began by power washing, scraping stucco, a full prime coat, and then we did a complete exterior painting of stucco and wood beams using *Elastomeric Paint. We worked on a complete exterior painting of the stucco and wood beams using our Elastomeric Paint which is useful for older projects and helps protect the surfaces from the dry heat and sun of Southern California. This paint comes with a ten-year warranty, and we use it because it works well with older buildings like this one and is a hearty product for the area.
*Elastomeric paint is a coating specifically made to protect masonry surfaces. Like other paints, it is applied in liquid form, which then hardens into a flexible, watertight covering. This paint can stretch and return to its original form without causing damage if applied correctly.
Our crew of five painters took approximately four weeks working full time, Monday through Friday. We used equipment such as 60-foot boom lifts to reach the highest peaks around the laboratory and our crew painted the large beams featured in the robust corridors.
We are familiar with working during business hours while businesses (or schools) have to be fully operational and were able to do so on this project without inconveniencing the school's faculty and students. They were able to stay wide open and keep their offices and classrooms in session.
---