Trust Our Top-Notch Pasadena Bath & Kitchen Painting Pros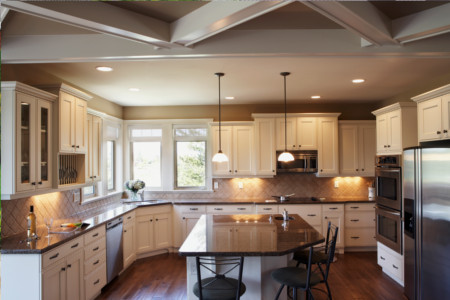 With a keen eye for detail and a working knowledge of the latest interior styles, Partnership Painting Inc in Pasadena can help you with your bath and kitchen painting ideas. The kitchen is probably the center of your home - whether small or large. It has a crucial impact on the feel and look of your residence - making it a welcoming space for family and friends. If you want to update the look of your kitchen, adding a fresh coat of paint can make your home sparkle in a way you haven't seen before. Whether you're seeking to incorporate a splash of color or repaint the entire space, our team knows how to do it right.
Let Our Professionals Add Life To Your Kitchen
Our residential interior painting services are designed to create attractive inner spaces while improving the value of your property. We have a team of painting contractors for Pasadena customers who are skilled and knowledgeable in painting techniques and color design. Partnership Painting Inc has proudly served the residents of Pasadena for over 37 years and will make sure that the job is completed to your satisfaction. We provide top-notch kitchen painting that you will love!
Bathroom Painting
Since the bathroom is usually the smallest, most private room in your home, it's frequently neglected, especially when it comes to painting. The bathroom is also a functional space that needs to look and feel comfortable, and with a fresh coat of paint, you can create an attractive and inviting atmosphere. However, the wrong paint can make the bathroom hard to clean and cause moisture-related problems. Like kitchen painting, bathroom painting may present unique challenges that aren't found in any other room in the house, so it's important you consult with professional painting contractors.  Don't rely on do-it-yourself methods! The Partnership Painting Inc team is always ready to provide you with a new look and feel for your bathroom. Give us a call to schedule a consultation on our kitchen painting and bathroom painting solutions for your Pasadena home.