Sierra Madre Painting Contractor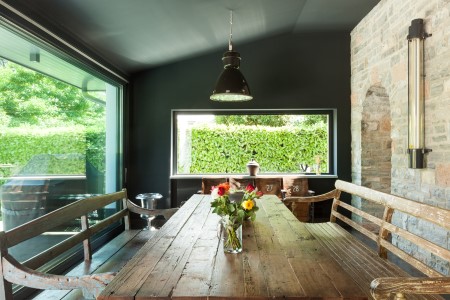 Are you looking to paint the interior or exterior of your Sierra Madre home or commercial building? If so, make sure you get the quality results your investment deserves by contacting the professional Sierra Madre painting contractors at Partnership Painting Inc
At Partnership Painting Inc we offer a wide range of commercial and residential interior and exterior painting services ranging from painting touch ups and wood staining to re-painting - all prep work and clean up included. We have a beautiful array of premium quality paint colors from trusted manufacturers like Benjamin Moore and Sherwin Williams in order to provide your home with a quality finish.
Whether we paint one room or an entire home, we treat all of our Sierra Madre painting jobs in the same manner: with professionalism and a dedication to providing superior quality results.
Partnership Painting Inc - Sierra Madre House Painters
Partnership Painting Inc first started as a partnership between two best friends, Scott Penn and Brad Cage. Scott and Brad have known each other since 1968 (the second grade) and learned about the painting trade from Scott's father who painted houses when he was not teaching High School. Since forming Partnership Painting Inc in 1984, the company has slowly grown to meet the needs of our ever-expanding list of satisfied customers with quality Sierra Madre painting services .
Rest assured that when you hire us as your Sierra Madre house painters, you will get quality painting results that look better AND last longer. Residential painting in Sierra Madre is an important part of our business, and we make every effort to provide homeowners with the highest quality results and customer satisfaction. We offer residential painting services in exterior house painting, interior house painting, wallpaper removal, wood staining and stucco patching.
Sierra Madre Exterior Painting
An excellent Sierra Madre exterior paint job requires far more than just a brush and a bucket of paint. With over 28 years of experience, thorough knowledge of processes and materials, and proper equipment, the Sierra Madre painting contractors at Partnership Painting Inc can complete an exterior painting job more quickly and safely than the average homeowner. We are fully licensed and insured Sierra Madre painting contractors that follow the appropriate measures to protect our customers and employees from hazards including lead-based paint.
With Partnership Painting Inc as Your Sierra Madre Painting Contractor, You Can Expect:
On time professionalism
Quality work at an excellent value
Neat and clean project completion
Experienced and skilled Sierra Madre painters that are insured with liability and worker's compensation insurance
Superior customer service from a friendly and easy to work with staff
Don't settle for just any exterior painting company - choose someone you can trust. Contact Partnership Painting Inc today!
Sierra Madre Interior Painting
There's a lot more to Sierra Madre interior painting that just rolling the colors you like onto the walls. You can, for example, create distinct spaces with the way you paint and the colors you use, or even induce sleeping in your bedrooms.
In most Sierra Madre houses today, the living room is an open area that connects the kitchen with the dining area. In such cases, it is difficult to determine where to start and where to stop a particular color scheme, if you want to add a bit more color to your house. A simple technique you can follow is to paint a feature on the wall between two areas, which will serve as a break to distinguish between the two areas. You could even do a progression of colors and arrive at a center point in the living room, like the fireplace.
The paint you use in the kitchen should match the finish of your cabinets and table. If you are likely to spend a lot of time in the kitchen, then it's a good idea to choose bright and happy shades that perk your mood and keep you excited.
For the bathrooms, you can be adventurous. They are, after all, small areas where you can change the color easily if you don't like what you've done. A safe bet, however, is to use light colors such as blue or green, as they give a feeling of more space, and also look and feel clean.
As for the bedrooms, Sierra Madre designers prescribe light shades of blue to induce sleeping. In such cases, add a touch of brightness in line with your vision when you wake up in the morning.