Residential Painting Tips For Los Angeles County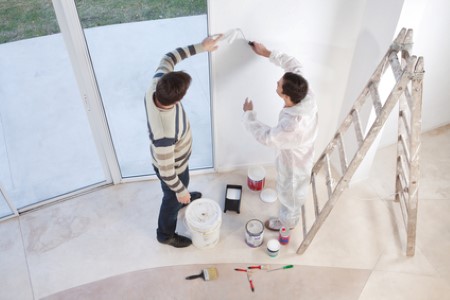 Over the years, your home in Los Angeles County has probably been through a lot. Pretty when brand-new, the walls now sport fingerprints, gouges, grease stains, and nail holes. Maybe there's peeling wall texture or gouges in the wooden trim too.
The wall paint can get worn down and faded over time but you may not notice it because you spend every day looking at it. You can be sure, though, that other people do notice. Brightening up the paint refreshes the look and will help to sustain the value of your home.
Maybe it's time to repaint but the work needs to last because it's a big project that you don't want to redo again anytime soon. Here are some tips from our Los Angeles County painting contractors to help you achieve a long-lasting finish.
Choose The Longest Lasting Paints & Primers
This is no time to skimp on the paint products you choose. Although you may save now on cheaper paint and primer , you will find yourself painting again in just a few short years. Choose high-quality paint paints and primers to avoid peeling and fading for as long as possible.
How A Professional Painter Can Help You
Our best advice for residential homeowners in Los Angeles County is to get help from a professional. This is the only way to get a high-quality finish that looks beautiful for years to come. Even if you start the project and find out you don't have time to finish it, a professional will usually be willing to step in. When choosing a painting contractor, be sure to choose a company who has the ability to paint all types of surfaces to include wood staining and finishing. This ensures you have a well-rounded painter who can take care of your kitchen cabinets, shelving, stairway, banisters, built-in furniture, or deck.
Careful When Painting Old Homes – Do You Have Lead-Based Paint?
If you have a home in Los Angeles County that was built prior to 1978, it is likely to contain lead-based paint in some or all areas. Lead paint dust and flakes are highly poisonous. Unfortunately, pets and children are the most likely to be exposed to lead paint. While you can paint over lead-based paint, it is not a long-term solution. This is where hiring a professional who is Lead-Safe Certified by the EPA is highly important. This professional can identify lead-based paint in your home and permanently eliminate it for you.