Executive Office Painting Ideas – Colors & Textures To Inspire You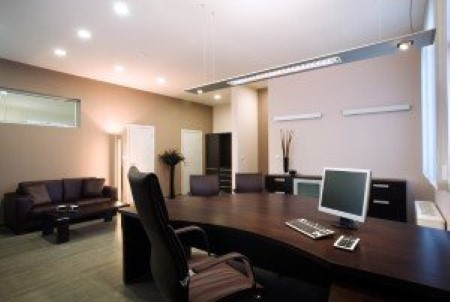 When planning on office painting, the best paint colors are those that help you be more productive, comfortable, and satisfied in your surroundings. Executive offices need to impress, so be careful to choose the right color scheme that goes well together.
Designing an office makeover can be difficult, especially when there are so many details and you don't know where to start. Start with painting and then build your design around the colors you choose.
As professional Pasadena painting contractors who have completed many high-end painting projects over the years, we can tell you that paint colors make a great deal of difference. Color can create and amplify certain moods, so you want to be sure your new executive office conveys the message you wish to send.
Here are some tips on painting high-end executive offices that you'll want to know.
Choosing Colors For Executive Offices
As a powerful person, you may want to choose a power color like red. However, remember that when painting your executive office that it will have an effect on your energy, creativity, and focus. Just as bold red can be a power color, it's can also be an irritant or excite the senses. Keep your reds and other bold colors muted or use them as accent colors.
Just as you don't want to go with colors that excite the nerves, you also don't want to choose a dull color scheme that is used in hospitals and clinics. This is an executive office you are painting, after all, so don't be afraid to make a statement. Choose interesting colors and use bold or bright colors as accents if you must.
Interesting colors have more tint in the paint. Here are some options for your executive office:
Purple – A royal color. It speaks of luxury, wealth, success, and sophistication. Since it can also be feminine and romantic and is rare in nature, choose a color with purple in it such as maroon or raisin for painting walls or trim.
Iron ore – A sophisticated, darker color. Iron ore has a relaxing, grounded feel to it. It goes well with a lot of other colors on the color wheel in dusky tans, creams, blacks, browns, and blues.
Smoky blue – Blues are soothing and cool. Smoky blue is a more luxurious form of blue that is perfect for painting an executive office. It goes great with all types of metal including chrome, gold, brass, copper, and bronze.
Choosing Your Executive Office Painting Contractor
Just be sure your commercial painting contractor has plenty of experience painting high-end commercial properties. The last thing you want is sloppy workmanship or a contractor who doesn't understand the 626-449-4097 of commercial painting.